Now that the massage industry is seeing a boost in interest with Covid-19 slowly dying down, it's time to take advantage of this by visiting your favorite massage salon to get a well-needed massage and cool down for your body. Before doing any activity, it's logical to put yourself in a mental state of preparation to be able to get the most out of your experience. The same rule applies when you are receiving a massage.
PREPARATION
It is recommended by our massage therapists that before the massage, you will want to put your body into detox mode where your energy is clear and concise. What this means is by making sure that you go through a proper preparation to get your body ready for a massage.
Essentially, you will need to eat something healthy such as fruits or vegetables, roughly around an hour before the massage to get the nutrients flowing around your body.
Water and tea are recommendation for drinks to take while avoiding alcohol at all cost. If you feel like your body is in a tear or stiff, then you can go ahead with some stretching to get your muscles stretched properly.
When you're going into a fresh massage session, depending on what the techniques will be used, try to wear something comfortable to your liking. For those with long hair, make sure that your hair is tied up to avoid contact with essential oils that will be used in the massage. Any time of jewelry is also recommended to be removed to avoid any injury.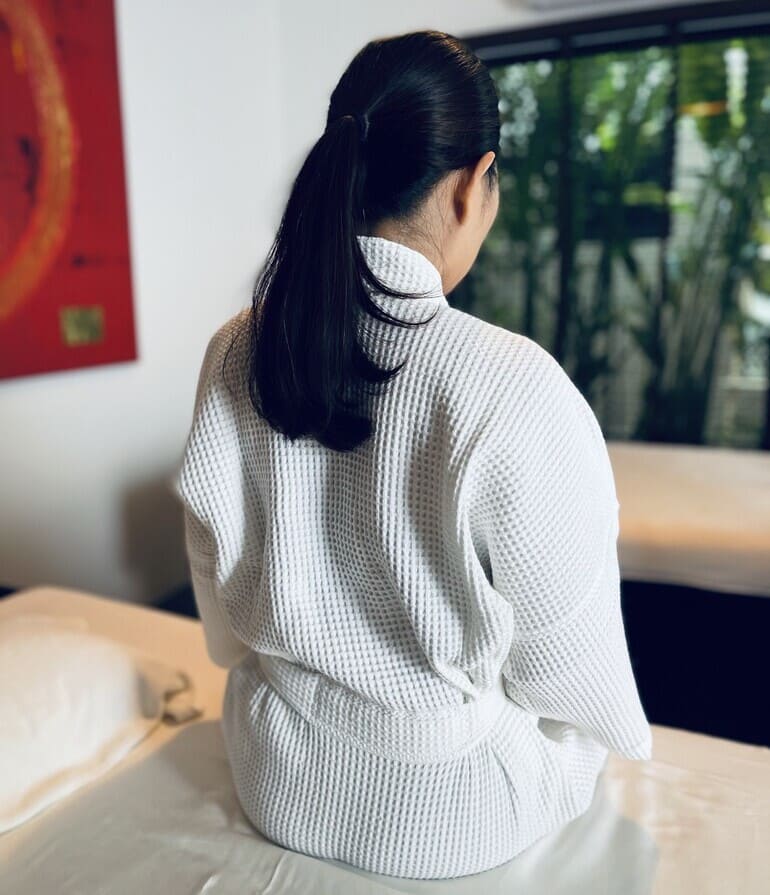 THE SESSION
This is the important part of the whole procedure as at this point, you will be at a calm state of mind for the whole massage. This means trying to leave any stressful matters out the door and to give yourself the freedom to relax and enjoy the massage. Turning off your mobile phone could also be a huge factor in making sure the whole session is peaceful.
In most salons, you will first start by speaking to the therapists and pointing out areas that needs attention or any allergies that you may have to the oils. This helps the therapist understand your body better and implement their own technique into making sure you get the experience that you are looking for.
During the whole session, it is important that you are in continous communication with your therapist. Always mention if certain areas or techniques being used are painful or if the room is not comfortable to your liking. Remember that this whole experience is a two-way street where both you and the therapist will have to understand each other to get the most out of your experience.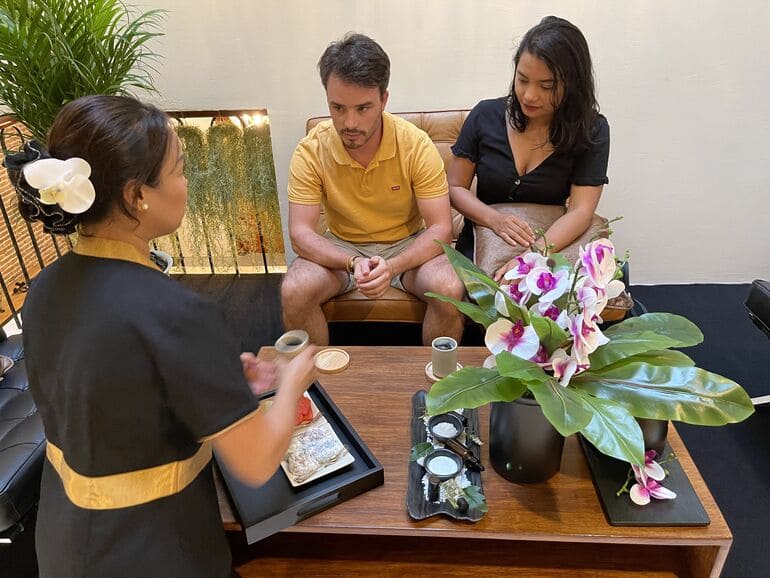 POST-SESSION
After the session is finished, you can now clean up by showering and wiping off any oils being used. Salons will usually go out of their way and offer you a cold or hot tea to end the session.
Today at Nuad Thai School, we provide multiple courses for both beginners and professionals to help you achieve a skill that can be helpful for everyday life. You can know reach over to one of members by simply calling us and making an appointment for training.